 We work with developers and architects and help them create impressive Angular apps with .NET Core backends, running on Azure or on their premises.
How may we help you with your challenging, complex, and critical projects?
Our goal is to help you become better developers and deliver your projects more efficiently. There might be no better way to learn than working together on your code.
Code and Architecture Reviews
We can be your sounding board to discuss critical ideas or to review the code of critical components before you base your large-scale development on them.
We've been developing highly interactive browser-based applications, their backends and APIs for quite a while. We'd love to share the lessons we've learned with you.
Angular Performance Optimization
Optimized 2D and 3D Visualization
.NET Core & Entity Framework Performance
CONVERSATIONS WITH OUR EXPERTS – IN OUR FREE WEBINARS
There are currently no english webinars scheduled.
Our Upcoming German Webinars
Large Language Models, Daten & APIs: Integration von Generative AI Power – mit Python & .NET
Christian Weyer | October 5, 2023 | 10:30 Uhr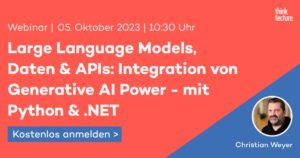 Azure OpenAI & private Large Language Models sicher deployen mit Terraform
Thorsten Hans | October 18, 2023 | 10:30 Uhr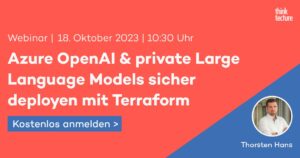 Serverless Generative AI mit Llama2 und Fermyon Cloud
Thorsten Hans | November 2, 2023 | 10:30 Uhr
In previous part we lerned how to pass parameters to a Source Generator. In this article we need this knowledge to pass futher parameters to implement logging.